Amazing things found in abandoned luggage are not your typical finds like designer purses and expensive watches, these are rare items like one-of-a-kind movie props, ancient artifacts, and large sums of cash. So forget that iPad you left in the seat back pocket, or that favorite pair of jeans in your luggage that never arrived. These amazing things found in abandoned luggage are the items we could only dream about having, even for a split second before they were swallowed up by air travel.
From the Hoggle movie prop from Labyrinth to 13th century bronze plaques, to an eight-foot remote controlled airplane, the unique items found in lost luggage are about as unpredictable as can be. Antique items like a 1770s violin, a 10-foot Tibetan dung chen and Egyptian artifacts, complete with a shrunken head, are just a few of the old items found in abandoned luggage.
But there's so much more than just old things found in lost luggage. There have been some extremely weird things that have turned up as well, like a Barbie doll stuffed with cash, 300 tortoises, a live rattlesnake, and no less than 50 vacuum-packed frogs. Of course plenty of illegal goods have been found as well, such as the five pounds of cocaine that were discovered stuffed in tennis shoes at JFK Airport in 2011.
These obscure items were all found in lost or abandoned bags at airports around the world, or at the Unclaimed Baggage Center in Alabama. Bags that go unclaimed after 90 days are sold by airlines and sent to this massive compound in the south where the items within are sorted, cleaned, and resold at prices 30-80% below retail. You may be able to find some gently used clothing, electronics, and of course top luggage at this 40,000 square foot store but don't expect many of these amazing things to be up for sale. The Unclaimed Baggage Center also houses a museum which displays all of these oddities for visitors.
40.95-Karat Emerald
This precious stone was found in a suitcase, still i 
n its natural, un-cut form,
 before ending up at the Unclaimed Baggage Center. If it sounds huge, that's because it is, and it's worth about $25,000.
5.8-Karat Diamond
In the "wow, that sucks" category, someone took extra care to carry a 5.8-karat diamond on a plane by stuffing it in a sock so it wouldn't go missing. Too bad that did little to prevent the rock, worth an estimated $46,000, from coming up missing and surfacing in abandoned luggage before it was sold for $23,000 cash.
$1 Million Dollars
You know in the movies when the bad guys carry around suitcases full of money, then something completely predictable happens and they flub up the big drop? That's likel the story that led to someone finding a cool mil in a suitcase in Australia.
Egyptian Artifacts
Because it would be so last season to carry a mummified falcon and some shrunken heads in an off-brand suitcase, these ancient Egyptian artifacts were discovered in a Gucci case sometime in the 1980s.
The famous Christie's auction house nabbed these 1500 BC finds and sold them to the highest bidder.
1770s Violin
The Unclaimed Baggage Center sees various musical instruments come through its doors but few as old and as valuable as a violin made in the 1770s. This find was not sold to an aspiring musical student however, as it remains in the museum of amazing things found in abandoned luggage.
300 Tortoises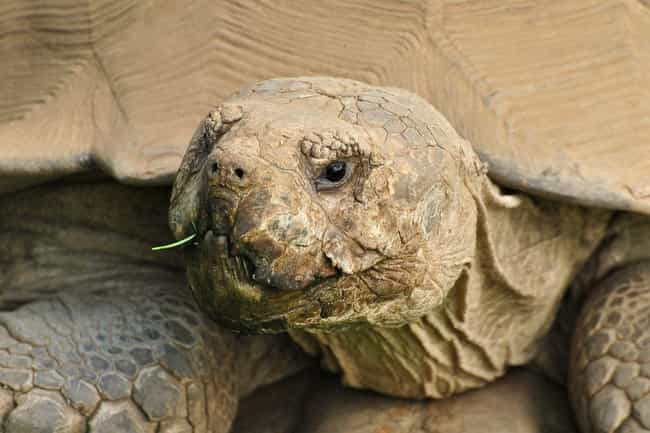 Because it would be insane to put them all in one suitcase, authorities in Malaysia found no less than 300 rare, live tortoises and a bunch of drugs in two suitcases on a flight bound for Madagascar.
Like drugs, the tortoises are worth a boat-load of money and are often traded illegally around the world.
Hoggle from Labyrinth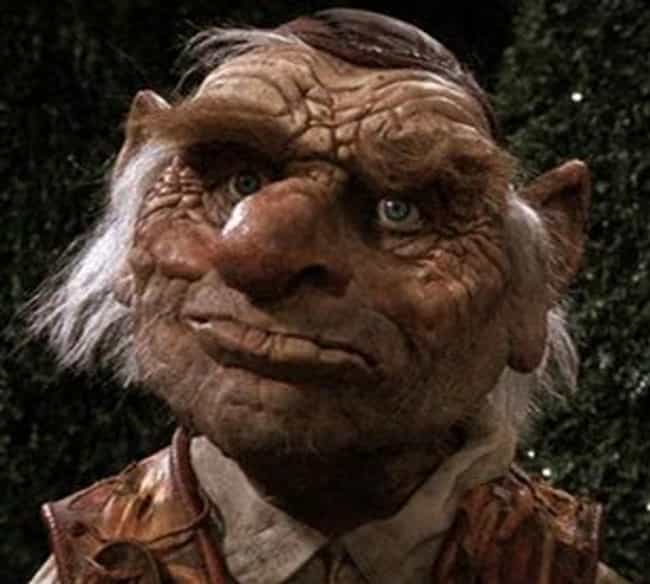 This movie prop from the 1986 David Bowie fantasy film 
Labyrinth
 originally required five people to operate its various parts. After restoration, Hoggle lives out his days as a main attraction at the Unclaimed Baggage Center Museum.
Barbie Doll Stuffed With Money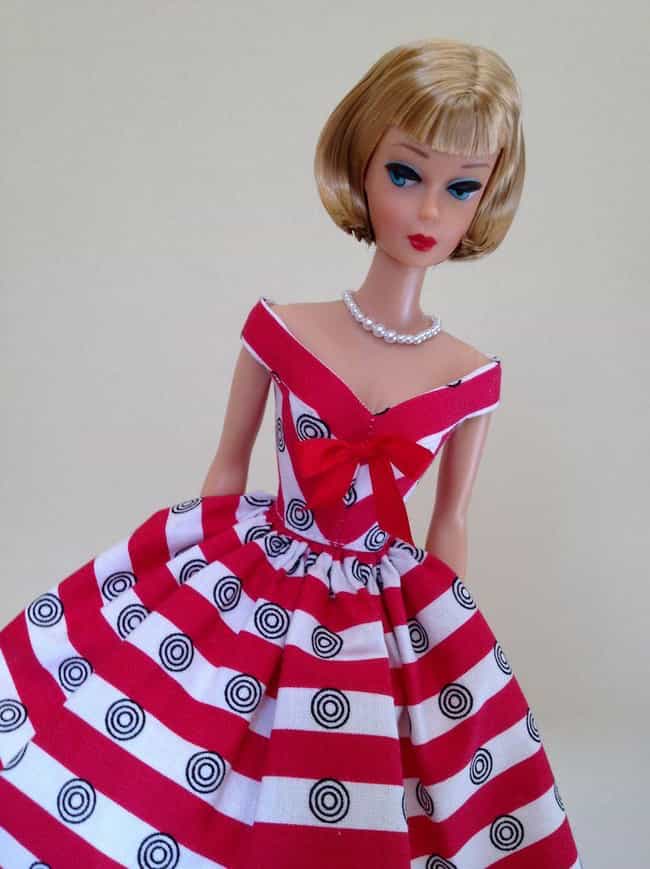 You'd never know it by looking at the classic doll but this Barbie doll, found in abandoned luggage, was worth over $500… because someone stashed $500 in cash inside her head.
Traditional Chinese Dragon Kite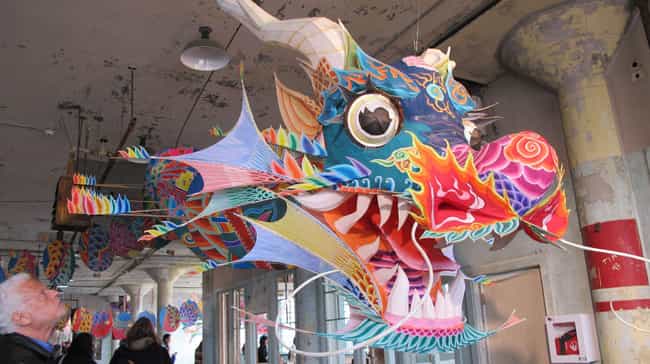 You've probably seen a traditional Chinese dragon kite but most likely it was a replica, not the hand-painted version found in lost luggage. This rare kite, which has been a staple of China for over 200 years, was created from raw silk and took likely more than two months to construct.
Naval Guidance System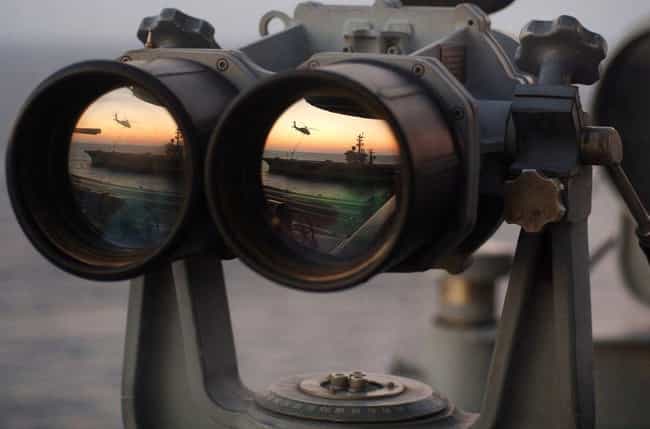 There's definitely a joke to be made when a Navy officer loses a GPS system worth an estimated $250,000 on an airplane. Thankfully the airline that found the really fancy navigation system had no trouble finding the officer to return the gadget.
Apostles Spoons

Explaining the phrase "being born with a silver spoon," apostles spoons were first created in the 16th century to give as baptismal presents for godchildren. Each set of 13 features images of Jesus and the 12 apostles carved into the handle.
13th Century Bronze Plaques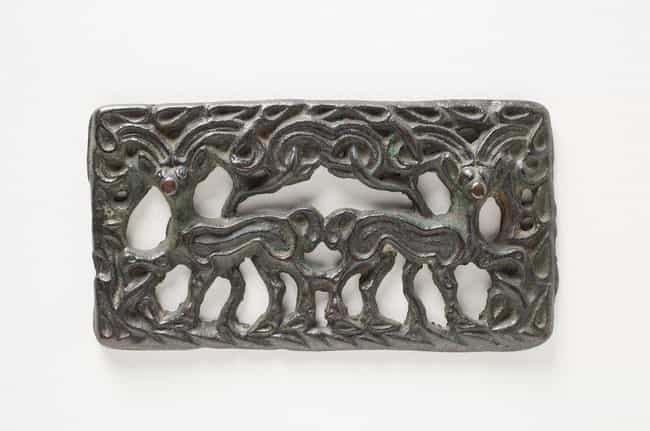 Straight out of 13th century Nigeria, these ancient bronze plaques were originally created by the Benin kingdom to honor the king, Oba, and frequently hung in Oba's Palace. How they ended up misplaced centuries later is just as unknown as why people are still falling for Nigerian email scammers in the 21st century.
Suit of Armor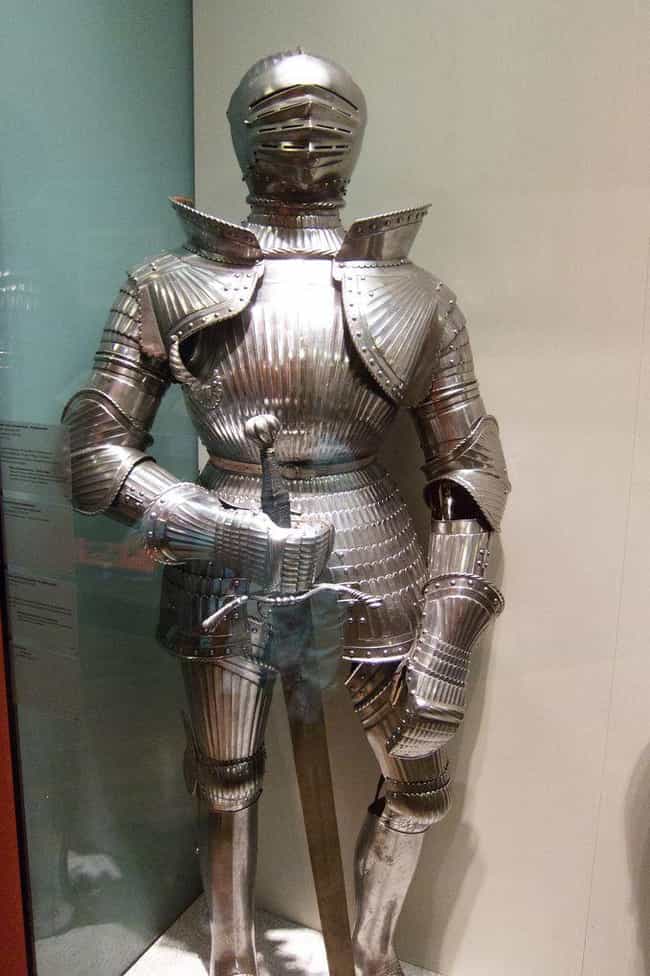 To be honest, this was not an authentic suit of armor that was found in unclaimed luggage, but still, having any suit of armor makes you infinitely cooler than anyone without a suit of armor.
Losing your suit of armor while flying? Not cool, dude.
Tibetan 10′ Dung Chen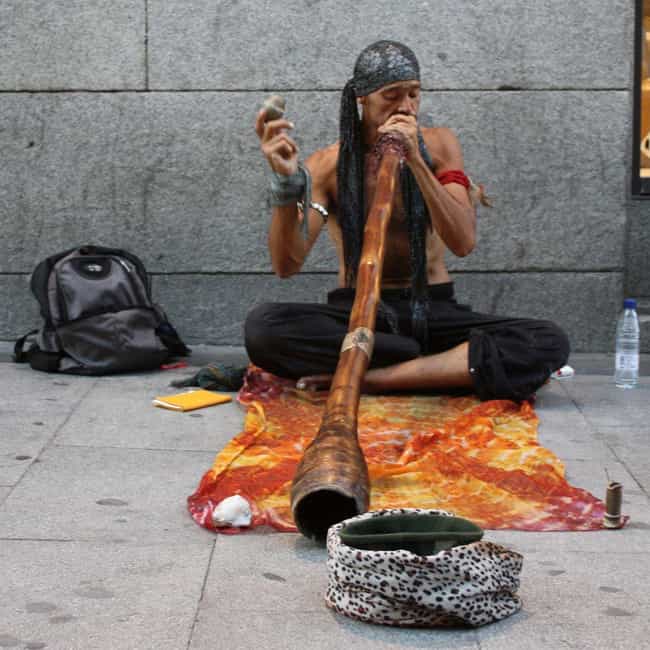 These long, heavy, brass instruments used at Buddhist ceremonies make low and powerful notes, similar to the sound an elephant would make. Like elephants, a Tibetan dung chen is huge, in this case 10 feet long.
Chinese "Opium" Scales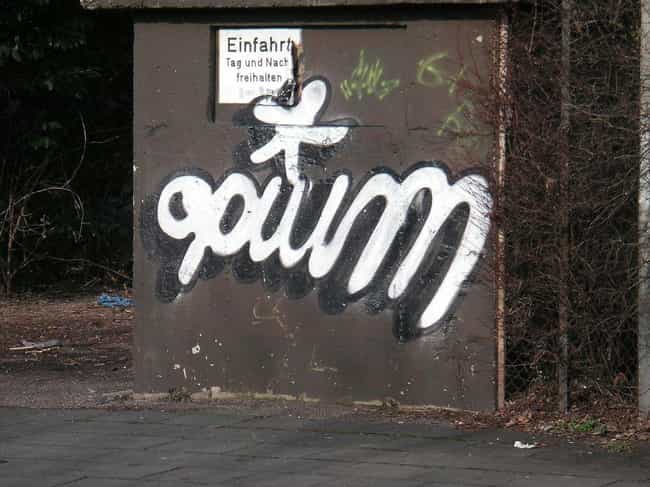 Used to measure out herbs, medicines, and of course opium, these Chinese scales date back to the 1800s. Whoever lost these scales on a flight will have to find another ancient method to measure their drugs now.
Remote Controlled 8′ Model Airplane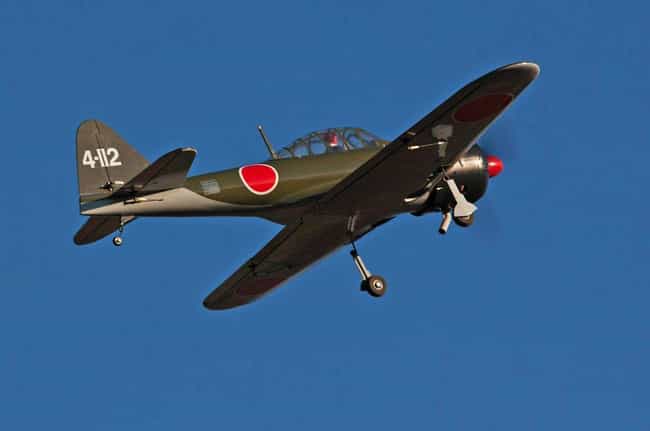 Believed to have been assembled from a kit, this remote controlled model airplane measuring 5′ x 8′ was traveling with college engineering students when it went missing and was ultimately unclaimed.
Try explaining losing an airplane on an airplane to your professor.
Five Pounds of Cocaine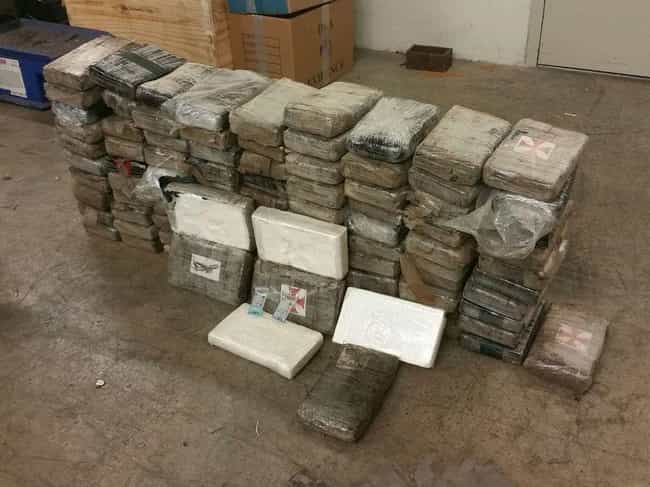 If you ever sat at home and wondered exactly how much cocaine you could fit into four pairs of tennis shoes, wonder no more. The answer is about five pounds, worth over $107,000, just like what was found in abandoned luggage, dumped at JFK Airport in 2011.
A Live Rattlesnake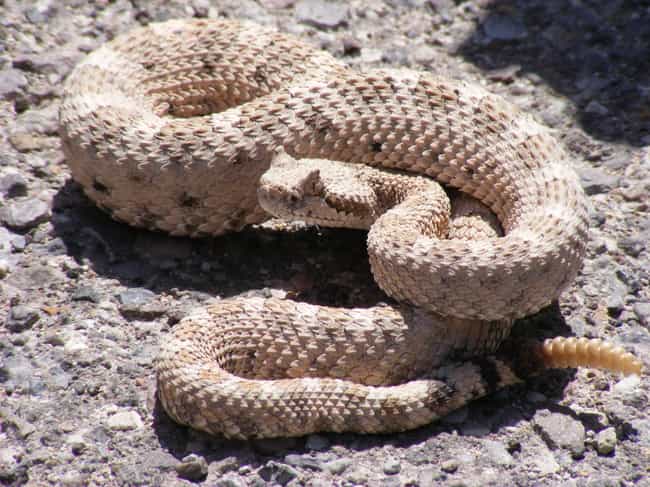 Just like the plot of that Samuel L. Jackson film, there were just too many snakes on the mother effin' plane. In this case, it was one snake, a rattle snake, that was unsatisfied with his seat and left his owner's suitcase to roam the rest of the luggage area.
Canadian Goose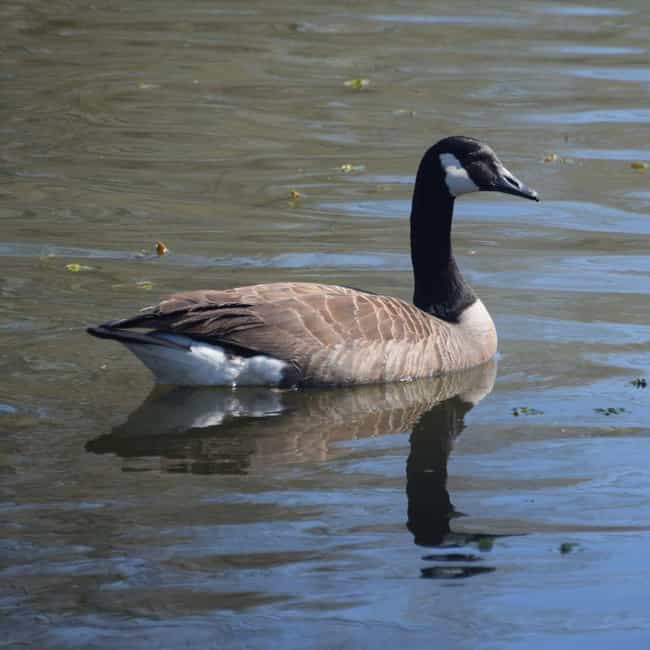 Seen as a nuisance to some, the Canadian goose was apparently a favorite to one unlucky flier who lost a full-sized stuffed Canadian goose on a flight. The feathered friend ended up at the Unclaimed Baggage Center Museum after its owner misplaced the giant.
50 Vacuum-Packed Frogs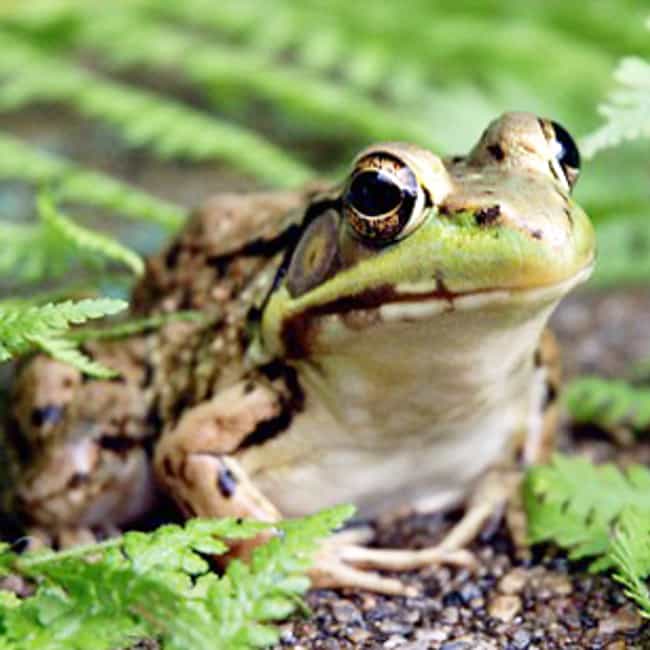 No one is really sure why someone vacuum packed 50 frogs or what they planned to do with said frogs once they landed at their destination. More than likely it was just for some bizarre science experiment but, you never know, maybe they belonged to a frog whisperer who collected the deceased frogs to lay them to rest in a magical place.