Captain D's is a casual fast-food chain that specializes in seafood. Founded in in Donelson, TN, in 1969, the restaurant was originally called "Mr. D's" after co-founder Ray Danner. Captain D's now has nearly 600 locations in 23 states, primarily in the South and Midwest, as well as overseas. Restaurant specialties include hand-breaded fish served in platters with side items such as hush puppies or okra.
What are the best Captain D's menu items? How can I make Captain D's hush puppies at home (because let's be honest, sometimes you just NEED a hush puppy)? From the cheesy biscuits at Red Lobster to the amazing sauces at Buffalo Wild Wings, it's always tempting to go out for a delicious treat at one of the numerous chain and franchise restaurants dotting the landscape. But eating out at restaurants all the time can be a costly proposition. Not to mention the fact that, at restaurants, you have no portion control, and can't alter the recipes, ingredients or style of cooking to suit your own taste.
Making Captain D's recipes in your home gives you all of these options, while saving you money, and providing the same great diversity and taste that you'd find at your favorite casual dining spot. This list collections the best copycat Captain D's recipes from around the Internet. If you simply must find out how to make Captain D fish batter, then this is the list for you.
Captain D's Fish
1 1/2 cups Flour
1 pkg. Dry yeast
1 Egg
1 cup Beer (Coors worked)
1/2 cup Hot water
1/2 tsp. Salt
– Mix the yeast and flour together.
– In another bowl beat together the egg, hot water and salt.
– Add the beer to the egg mixture.
– Next beat in the flour and yeast.
– Drop fish into batter and cover thoroughly.
– Fry in hot oil.
– Drain on paper towels after removing from oil.
CheeseSticks
1 cup flour
1/2 teaspoon salt
1/8 teaspoon ground cayenne pepper
1 1/2 teaspoons baking powder
4 tablespoons butter or margarine
1/2 cup shredded Cheddar cheese
3 tablespoons sour cream
– Combine dry ingredients.
– Cut in butter and cheese with pastry blender.
– Stir in sour cream.
– Shape into a ball and chill 2 hours.
– On a lightly floured surface.
– Roll out dough 1/8-inch thick.
– Cut into strips 1/4-inch wide and 3 inches long.
– Bake at 425° for 8 minutes.
Tilapia Scampi
3/4 cup butter
1 1/2 teaspoons lemon juice
8 cloves garlic, halved
4 (6 ounce) tilapia fillets, rinsed and patted dry
1 tablespoon dried parsley
– Preheat an oven to 375 degrees F (190 degrees C).
– Prepare a baking dish with cooking spray.
– Combine the butter, lemon juice, and garlic in a microwave-safe bowl.
– Heat in microwave in 10-second increments until the butter is completely melted and the garlic has softened.
– Stir between each session, about 1 minute total.
– Arrange the tilapia in the bottom of the prepared baking dish.
– Pour the butter mixture over the fillets assuring they are all evenly covered.
– Sprinkle the parsley over the tilapia.
– Bake in the preheated oven.
– Turn the fillets every 10 minutes, until the fish flakes easily with a fork, about 40 minutes total.
Jalapeno Poppers
1 (8 ounce) package cream cheese, softened
1 (8 ounce) package shredded sharp Cheddar cheese
1/4 cup mayonnaise
15 fresh jalapeno peppers, halved lengthwise and seeded
2 eggs, beaten
1/2 tablespoon milk
1 1/2 cups crushed corn flake cereal
– Preheat oven to 350 degrees F (175 degrees C).
– Lightly grease a medium baking sheet.
– In a medium bowl, mix together cream cheese, sharp Cheddar cheese and mayonnaise.
– Stuff jalapeno halves with the mixture.
– Whisk together eggs and milk in a small bowl.
– Place crushed corn flake cereal in a separate small bowl.
– Dip each stuffed jalapeno half into the egg and milk mixture.
– Roll in corn flake cereal to coat.
– Arrange in a single layer on the prepared baking sheet.
– Bake in the preheated oven 30 minutes, or until filling is bubbly and lightly browned.
2 Piece Fish and Coconut Shrimp
2 egg whites
1 1/2 cups panko or breadcrumbs
1/2 teaspoon cumin
3/4 cup flaked coconut
1 garlic clove, minced
pepper
24 large shrimp, peeled, deveined, butterflied
– Preheat oven to 500°F.
– Spray a baking sheet with olive oil spray.
– Beat egg whites in bowl.
– In a small plastic bag, mix panko, cumin, coconut, garlic, and pepper.
– Dip shrimp in egg whites.
– Shake in plastic bag to coat.
– Lay shrimp on baking sheet and bake about 6 minutes per side until golden brown.
Wild Alaskan Salmon Salad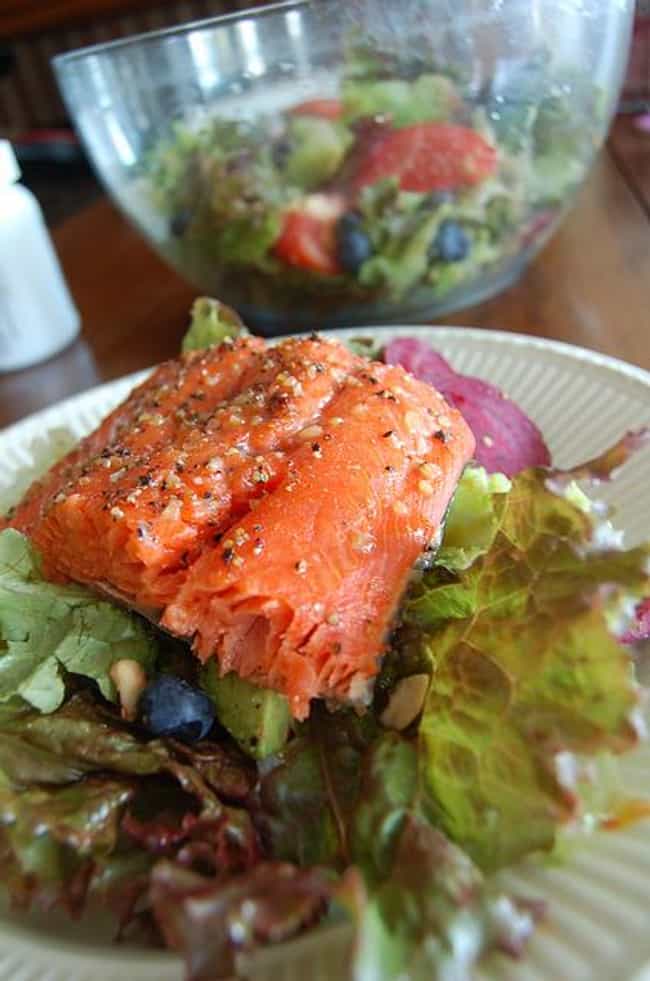 RUSSIAN DRESSING:
2 tablespoons ketchup
2 tablespoons mayonnaise
1 tablespoon Dijon mustard
1 tablespoon finely chopped gherkins
1 teaspoon lemon juice
SALAD:
2 8-ounce salmon fillets*
Salt and freshly ground black pepper
2 tablespoons unsalted butter, melted
2 tablespoons lemon juice
1 tablespoon chopped fresh dill
1⁄2 head iceberg lettuce, cut into wedges or shredded
1⁄2 red onion, thinly sliced
– In a small bowl, whisk together all the dressing ingredients.
– Set aside.
For the salad:
– Season each fillet with salt and pepper.
– In a microwave-safe baking dish, combine the butter and lemon juice.
– Place the fish in the dish, turning to coat.
– Sprinkle with fresh dill.
– Cover dish with plastic wrap and poke several holes in the plastic with a fork.
– Microwave on high (100% power) for 2 to 3 minutes or until the fish flakes easily with a fork.
– Once fish is cool enough to handle, remove any skin and flake the salmon into chunks.
– Divide the lettuce and onion between two plates.
– Place salmon chunks on top of the lettuce.
– Drizzle the dressing over the salad. *Use Alaskan salmon if you can fi nd it.
Bacon Ranch Chicken Sandwhich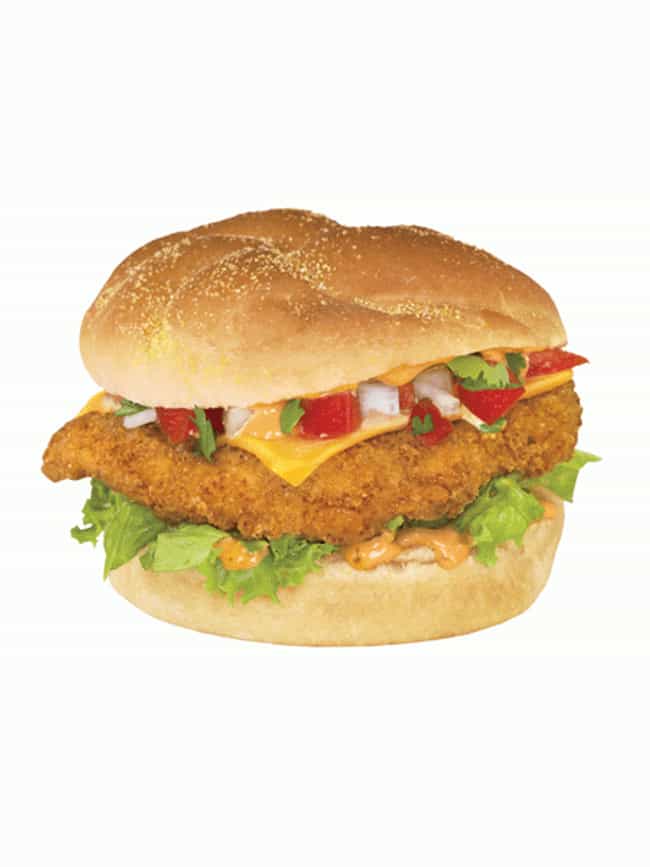 8 slices bread
4 boneless skinless chicken breasts
6 slices bacon, cut in half
1 onion, sliced
1/2 cup shredded cheddar cheese
1 tomato, sliced
1/2 cup romaine lettuce, shredded
– Broil or toast slices of your bread of choice until lightly toasted.
– Wrap each chicken breast in wax paper and pound with a mallet until flattened.
– Cook bacon in a large skillet until crisp.
– Remove bacon and drain on paper towels.
– Cook chicken in skillet.
– Place 4 slices of bread on cookie sheet.
– Add 3 slices bacon, 1 chicken breast, 1 slice onion.
– Sprinkle cheddar cheese to each slice of bread.
– Broil until cheese is melted.
– Add ranch dressing, tomato, and lettuce to each sandwich.
– Top with second slice of bread.