Famous Dave's Legendary Pit Bar-B-Que is a chain of southern-stye barbecue restaurants based in Minnesota. Menu items include BBQ favorites like hickory smoked spareribs, beef brisket, and chicken, though Famous Dave's is also known for its burgers and salads, like the Crispy Chicken Jumpoff. The restaurant also serves indulgent desserts like bread pudding and has a full bar.
From the cheesy biscuits at Red Lobster to the amazing sauces at Buffalo Wild Wings, it's always tempting to go out for a delicious treat at one of the numerous chain and franchise restaurants dotting the landscape. But eating out at restaurants all the time can be a costly proposition. Not to mention the fact that, at restaurants, you have no portion control, and can't alter the recipes, ingredients or style of cooking to suit your own taste.
Making Famous Dave's recipes in your home gives you all of these options, while saving you money, and providing the same great diversity and taste that you'd find at your favorite casual dining spot. This list collections the best copycat Famous Dave's recipes from around the Web.
What are Famous Dave's recipes? Take al ook here and find out for yourself.
6 slices day-old bread
2 tablespoons butter, melted
1/2 cup raisins (optional)
4 eggs, beaten
2 cups milk
3/4 cup white sugar
1 teaspoon ground cinnamon
1 teaspoon vanilla extract
– Preheat oven to 350 degrees F (175 degrees C).
– Break bread into small pieces into an 8 inch square baking pan.
– Drizzle melted butter or margarine over bread.
– If desired, sprinkle with raisins.
– In a medium mixing bowl, combine eggs, milk, sugar, cinnamon, and vanilla.
– Beat until well mixed.
– Pour over bread, and lightly push down with a fork until bread is covered and soaking up the egg mixture.
– Bake in the preheated oven for 45 minutes, or until the top springs back when lightly tapped.
Texas Beef Brisket
7 lb. beef brisket, trimmed
2 tsp. onion salt
1 tsp. celery salt
1 tsp. garlic salt
4 tsp. monosodium glutamate or baking soda
2 tbsp. Worcestershire sauce
1 1/2 tbsp. liquid smoke
Texas Barbecue Sauce:
1/2 c. butter
1/4 c. vinegar
1/4 c. Worcestershire sauce
1/4 c. sugar
Salt, pepper & garlic salt to taste
2 c. ketchup
1/4 c. lemon juice
1/2 c. water
1 onion, chopped
2 tsp. Tabasco
– Rub brisket with onion, celery, garlic salt and monosodium glutamate.
– Let stand about 30 minutes.
– Place in a roasting pan and pour Worcestershire sauce and liquid smoke over surface of roast.
– Cover and refrigerate several hours.
– Drain off marinade, wrap brisket fatty side up in heavy foil and seal.
– Bake 5 hours at 300 degrees.
– Allow to cool.
Prepare sauce.
– Combine Texas Barbecue Sauce ingredients and simmer 20 minutes over medium heat.
– Slice meat thinly across the grain and place in a baking dish.
– Cover with barbecue sauce and bake 20 minutes at 325 degrees.
Dave's Famous Chili Soup
3 pounds ground beef
1 1/2 cups chopped onion
2 potatoes, cubed
4 (15 ounce) cans kidney beans
4 (10.75 ounce) cans condensed tomato soup
8 cups tomato juice
3 teaspoons chili powder
8 cups water
salt to taste
– In a large pot over medium heat, combine the ground beef and onions.
– Saute for 5 minutes, or until meat is browned.
– Drain excess fat and add the potatoes, beans, tomato soup, tomato juice, chili powder, water and salt to taste.
– Bring just to a boil and reduce heat to low.
– Simmer for 1 hour and serve.
Georgia Chopped Pork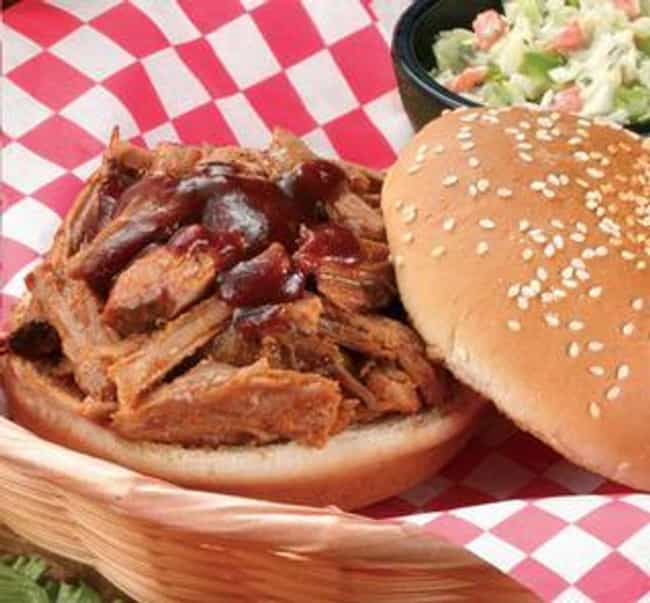 4 lg. lean pork chops
1/4 c. peanut butter
1/2 can mushroom soup
1/4 c. milk
1 tsp. Worcestershire sauce
1 tsp. salt
1/8 tsp. pepper
– Brown pork chops.
– Pour off fat.
– Top each chop with a thick slice of onion.
– Mix peanut butter, mushroom soup, milk and seasonings. Pour over chops.
– Cover and cook over low heat for 45 minutes.
–Citrus Grilled Shrimp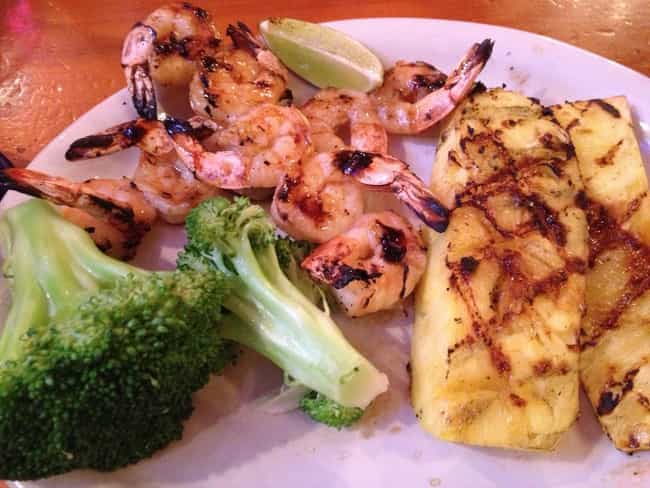 1 ½ lbs large shrimp , peeled and deveined
3 tablespoons extra virgin olive oil
2 oranges, juice and zest of
1 lime, juice and zest of
½-1 teaspoon crushed red pepper flakes
1 tablespoon sugar
– Place shrimp in large sealable plastic bag.
– In a mixing bowl, combine the marinade ingredients.
– Pour over shrimp and seal bag.
– Marinate for 15 minutes.
– Meanwhile preheat barbeque grill on high heat.
– Remove shrimp from bag and pat dry.
– Lightly oil the grill and place shrimp directly on grill.
– Cook for 1 1/2 to 2 minutes per side.
Barbecue Classics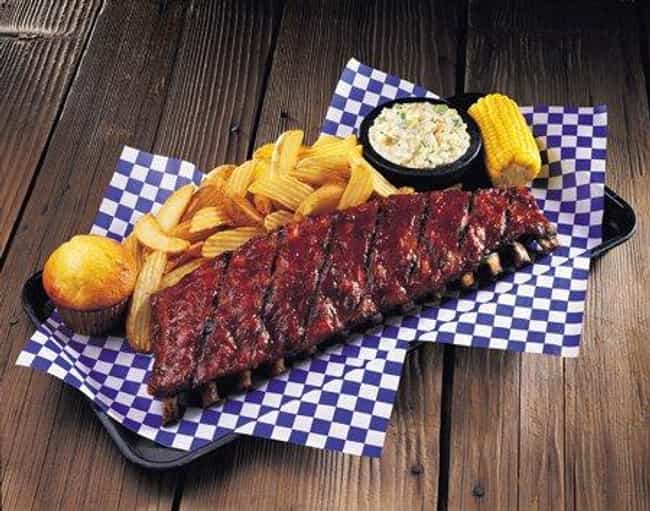 2 cups ketchup
1/3 cup brown sugar
1/4 cup minced onion
2 tablespoons olive oil
2 tablespoons water
3 cloves garlic crushed
1 tablespoon apple cider vinegar
1 tablespoon tomato paste
1 tablespoon Worcestershire sauce
1 1/2 teaspoon liquid smoke
1 teaspoon dry mustard
1/2 teaspoon cayenne
fresh ground pepper to taste
– Blend onion and water into a puree.
– Heat a medium sauce pan over a medium heat.
– Add olive oil.
– When oil is warm, pour in onion puree.
– Simmer until slightly browned.
– Add remaining ingredients.
– Mix thoroughly and simmer for about 20 minutes.
Citrus Grilled Salmon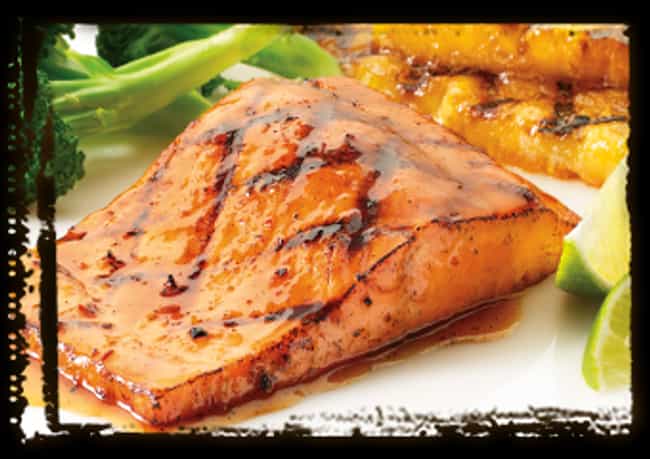 2 oranges, peeled, white pith removed
2 (6 oz.) 1 inch thick salmon fillets
2 tsp. safflower oil
Freshly ground pepper
1 tbsp. fresh lime juice
1/2 cantaloupe, seeded, cut into 1 1/2 inch wedges and peeled
Additional fresh lime juice
Chopped fresh cilantro
– Cut oranges between membranes with small sharp knife to release individual segments.
– Set aside.
– Prepare barbecue (high heat) or preheat broiler.
– Rub salmon on both sides with oil.
– Sprinkle generously with pepper.
– Grill salmon until just cooked through, basting with 1 tablespoon lime juice, about 4 minutes per side.
– Grill cantaloupe just long enough to heat through and make grill marks, about 2 minutes per side.
– Arrange salmon and cantaloupe on serving plate.
– Garnish with orange segments.
– Sprinkle with additional lime juice and chopped cilantro.
Better Than Mom's Pecan Pie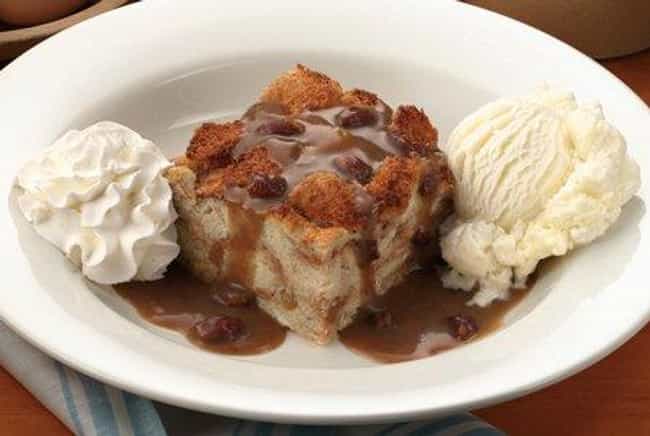 PASTRY
1 cup all-purpose flour
1/2 teaspoon salt
1/2 teaspoon sugar
1 stick (4 ounces) cold unsalted butter, cut into 1/2-inch pieces
1/4 cup ice water
FILLING
3 large eggs
1 cup sugar
1/4 teaspoon salt
1/2 cup light corn syrup
1/2 cup dark corn syrup
4 tablespoons unsalted butter, melted
1 tablespoon pure vanilla extract
1 1/4 cups pecan halves (5 ounces)
– MAKE THE FILLING In a food processor, pulse the flour with the salt and sugar.
– Add the butter and pulse several times until it's the size of small peas.
– Sprinkle on the ice water and pulse just until the crumbs are evenly moistened.
– Turn the pastry onto a work surface and gather it into a ball.
– Flatten into a disk, wrap in plastic and refrigerate for at least 30 minutes.
– Preheat the oven to 350°
– On a lightly floured surface, roll out the pastry to a 13-inch round.
– Ease the pastry into a 9-inch glass pie plate and trim the overhang to 1/2 inch.
– Fold the overhang under itself and crimp decoratively.
– Refrigerate until firm.
– In a medium bowl, whisk the eggs with the sugar and salt.
– Whisk in the light and dark corn syrups, butter and vanilla until combined.
– Stir in the pecans.
– Pour the filling into the pie shell and arrange the pecans in a decorative pattern.
– Cover the rim of the pie with foil strips and bake the pie for 50 minutes, or until the crust is golden and the filling is puffed but still slightly jiggly.
– Remove the foil strips and let the pie cool completely before serving.
Hickory Chicken Sandwich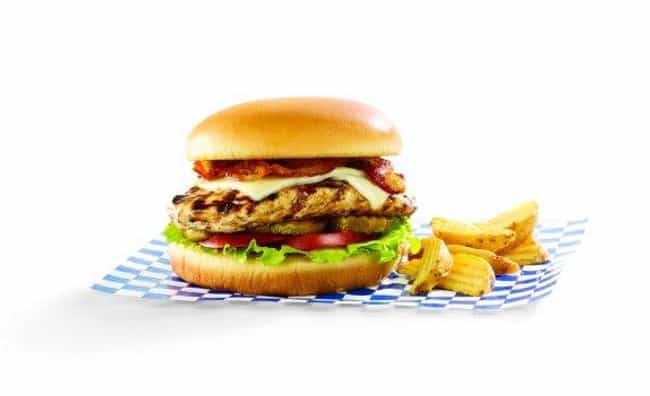 4 (4 oz.) skinless, boneless chicken breast halves
4 (1/4″ thick) slices red onion
1/3 cup hickory-flavored barbecue sauce
non-stick cooking spray
4 canned pineapple slices
4 reduced-calorie hamburger buns
– Prepare grill.
– Brush chicken and onion with barbecue sauce.
– Place chicken, onion, and pineapple on grill rack coated with cooking spray.
– Cover and grill 5 min. on each side or until chicken is done, removing onion and pineapple when tender.
– Place each chicken breast on bottom half of bun; top with onion, pineapple and top half of bun.
Chicken Wild Rice Soup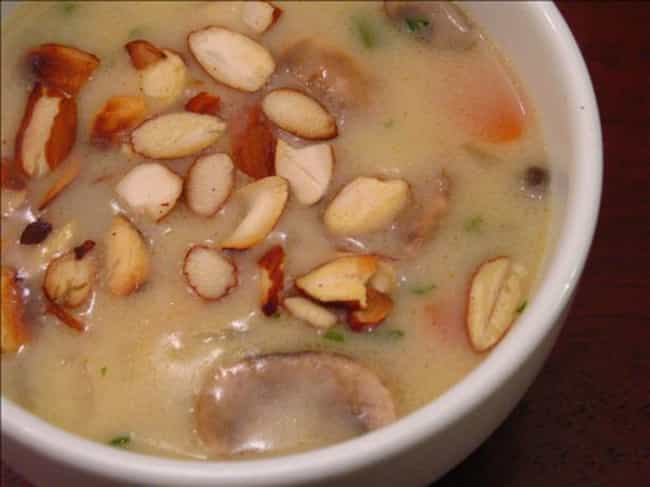 1/2 cup butter
1 finely chopped onion
1/2 cup chopped celery
1/2 cup sliced carrots
1/2 pound fresh sliced mushrooms
3/4 cup all-purpose flour
6 cups chicken broth
2 cups cooked wild rice
1 pound boneless skinless chicken breasts, cooked and cubed
1/2 teaspoon salt
1/2 teaspoon curry powder
1/2 teaspoon mustard powder
1/2 teaspoon dried parsley
1/2 teaspoon ground black pepper
1 cup slivered almonds
3 tablespoons dry sherry
2 cups half-and-half
– Melt butter in a large saucepan over medium heat.
– Stir in the onion, celery and carrots and saute for 5 minutes.
– Add the mushrooms and saute for 2 more minutes.
– Then add the flour and stir well.
– Gradually pour in the chicken broth, stirring constantly, until all has been added.
– Bring just to a boil, reduce heat to low and let simmer.
– Add the rice, chicken, salt, curry powder, mustard powder, parsley, ground black pepper, almonds and sherry.
– Allow to heat through, then pour in the half-and-half.
– Let simmer for 1 to 2 hours.